wedding gowns
You spent a great deal of time and money choosing the perfect wedding dress. You may hope that a sister or perhaps your daughter may someday wear your gown.
free winter storage
Winter clothes are usually the most expensive wardrobe investments, not only because of actual materials but also because most consumers plan to use these clothes for several seasons.
suede & leathers
The Leather Apparel Association recommends professional leather cleaning for all leathers and fabric garments trimmed with leather or suede.
Our Services

Suede & Leather Care
Wedding Gowns
Expert Stain Removal
Tailoring & Alterations
Shoe Repair
Comforters & Quilts Cleaned
Same Day Service
Welcome to our Website!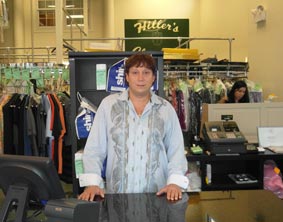 You can trust your fine clothing and linens will be handled with the utmost care and attention at Hiller's Cleaners.

We care about the environment, our community & our customers.
All Work Done on Premises Since 1974
Hiller's Cleaners is your Full Service Dry Cleaners. Owner George Vrahliotis is a second generation dry cleaner and has over 30 years in the fabric care industry. Visit us in our brand new building with state of the art equipment. We now have 3 convinient locations in Massachusetts: 63 Main Street, downtown Hopkinton, 3 Main Street, downtown Southborough and 281 Mt. Auburn Street in Watertown.

Support your local dry cleaner, the name says it all.

Hours of Operation
Monday – Friday 7am to 7pm
Saturday 7am to 5pm