Services Overview
We offer exceptional service and quality wet cleaning using the finest detergents and environmental dry cleaning using the most advanced dry cleaning solvent. All work is done on premises, guaranteeing the fastest turnaround time.
Suede & Leather Care
The Leather Apparel Association recommends professional leather cleaning for all leathers and fabric garments trimmed with leather or suede.
The LAA also advises consumers to clean matching garments at the same time, since a slight variation in color or texture may occur as a natural result of the cleaning process.
As your professional dry cleaner, Hiller's Cleaners specializes in caring for your suede and leather garments. We inspect each garment thoroughly before cleaning and pre-treat any soiled areas or special stains. We treat colors and dyes very carefully, spraying areas with special solvents to keep your suede and leather garments looking bright and fresh.
Hiller's Cleaners can help you keep your leather and suede garments looking fresh and beautiful for many years.
Shoe Repair
Hiller's Cleaners offers complete shoe repair services. Repairing your shoes is often times cheaper than buying a new pair of shoes.
Do your shoes have broken heels? Hiller's Cleaners can offer heel repair or complete replacement.
Old shoes no longer comfortable? Perhaps the soles are worn out. Sole repair or sole replacement may make your old shoes feel like new.
Stitching worn out? Shoe covering looking less than it's best? We can get your old shoes looking and feeling like new.
From stains to stitching, from sole repair to heel replacement, from shoe and boot laces to complete shoe repair, Hiller's Cleaners is your one stop shop for all your shoe repair needs.

Wedding Gowns
Hiller's Cleaners offers complete Wedding Gown Cleaning and Preservation Services.
You spent a great deal of time and money choosing the perfect wedding dress. You may hope that a sister or perhaps your daughter may someday wear your gown. You may even just want to hold onto your beautiful gown for sentimental reasons.
Your wedding gown is a treasured keepsake that if properly cleaned and preserved, can last for many years. After the wedding, many bridal gowns are left in the plastic garment bag that the dress came in from the bridal store. Unfortunately, that poses some serious risks to the gown:
Plastic fumes: Gowns kept in plastic gown bags are exposed to the most harmful environment possible: plastic fumes. Most plastic gives off chemical fumes that cause the yellowing of bridal gowns.
Oxidation of stains, seen and unseen. Your dress may have noticeable stains from food or make-up or the hemline may be soiled. Even if your dress looks clean to you, spills from alcoholic beverages or clear soda may dry clear, but oxidize with time, turn brown and become more difficult to remove later. Body perspiration may cause the dress lining to turn brittle over time. Your dress needs to be cleaned in order to keep it in the best condition possible.
Cleaning and preserving your bridal gown as soon as possible ensures that your gown remains in the best condition possible. Ideally, your dress should be cleaned and preserved within days or weeks of your wedding.

Comforters & Quilts
Hiller's Cleaners offers complete Comforter, Quilt and Blanket Cleaning Services.
Before you pack away your winter bedding for next year, make sure you clean them properly to ensure warm winters for years to come. Follow the directions on the cleaning label. Do not machine wash an item that says "dry clean only". Instead, bring it to Hiller's Cleaners for proper cleaning and care.
Commercial washers are best for large items like comforters and bedspreads. Our high capacity machines give better aeration and rinsing. This helps to remove dirt and dust mites more effectively. If you drop your comforter/bedspread off at Hiller's Cleaners, it will be cleaned using a commercial machine for optimum results.
Handmade quilts and blankets usually hold special sentimental value. Some are precious heirlooms that have been handed down through the generations. Dry cleaning these treasured items is the most effective way to keep them looking their best. You can trust that Hiler's cleaners will use the utmost care in cleaning these precious items.


Expert Stain Removal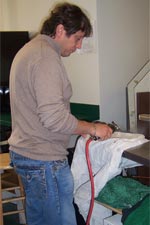 Hiller's Cleaners specializes in difficult stain removal.
No matter what the stain- Hiller's Cleaners has a solution. If you have a stain that others have failed to remove, bring it to us.
Hidden stains like perspiration, champagne, or sugar-based stains will yellow with age if not properly removed. Successful stain removal depends on type of fabric, type of stain and the age of the stain.

| | | | |
| --- | --- | --- | --- |
| • | Blood | • | Grease, Tar |
| • | Ink | • | Chocolate |
| • | Paint | • | Food |
| • | Beverages | • | Yellow from age |
| • | Ketchup, Mustard | • | Dye bleed from home washing |
| • | Gum | • | Stains of unknown origin |
Tailoring & Alterations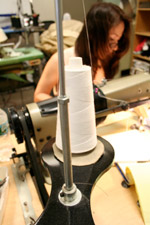 There is nothing worse than looking like you are wearing someone else's clothes. A well-fitted garment can enhance your figure or physique.
Hiller's Cleaners offers professional tailoring services for men, women and children that include expert repairs and alterations.
We've been in the tailoring business for more than 27 years and have personnel on staff always available to provide you with the service you want and the quality you deserve.
We can take a regular garment and turn it into one custom fitted just for your body.  We are experts at making any garment look its best on you. So whether you are buying a new outfit or perhaps you have lost some weight and need your clothes resized for you, rest assured that you will look great when you use Hiller's Cleaners for your tailoring and alterations.


Free Winter Storage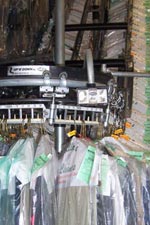 Winter clothes are usually the most expensive wardrobe investments, not only because of actual materials but also because most consumers plan to use these clothes for several seasons. Garments such as leather jackets, thick wool sweaters, and the like are usually expensive, but are usually justified based on how long they will last. However, without proper winter clothing storage, even the best quality garments will quickly deteriorate.
Hiller's Cleaners offer FREE storage for your winter items when you have us do your dry cleaning.  Next year just give us a call and we will have your items pressed and ready for you to pick up.